Date

2015/02/23/Mon 13:54

Category
Overview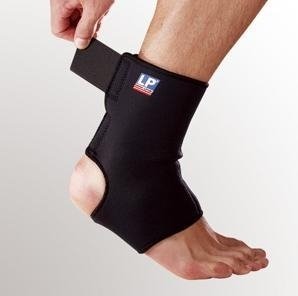 Achilles
Tendinitis is a painful condition. Running and walking are made possible by the
Achilles
tendon, which attaches the calf muscle to the heel bone. Strenuous exercise, jumping, and climbing are all movements that can strain the tendon and calf muscles, causing an inflammation known as tendinitis. The injury to the
Achilles
can be mild, requiring only rest and over-the-counter anti-inflammatory drugs, or severe, necessitating surgical repair of the damaged tendon. Chronic
Achilles
tendinitis can lead to micro tears in the tissue (tendinosis), which weaken the tendon and put it at risk for severe damage such as a tear or rupture.
Causes
Achilles tendonitis is aggravated by activities that repeatedly stress the tendon, causing inflammation. In some cases even prolonged periods of standing can cause symptoms. In many people who have developed achilles tendonitis, chronic shortening of the gastroc-soleus muscle complex is the reason that home remedies and anti-inflammatory medications fail. In these instances the muscle itself becomes shortened and creates a constant stress at the tendon?s attachment. Like a green branch that is slowly bent, eventually it begins to breakdown. Over a prolonged period the tendon becomes inflamed, and in the worst cases, appears swollen and thickened. In certain circumstances attempts to heal have failed and the body?s inability to heal the tissue results in degenerative changes known as achilles tendonosis. Anti-inflammatory medication, stretching and ice may only provide temporary relief, because they address the inflammation but not the root cause.
Symptoms
Signs and symptoms of Achilles Tendinitis generally include pain and stiffness along your achilles tendon, especially in the morning. Pain in the back of your heel that gets worse with activity. Severe pain the day after exercising. Swelling that gets worse with activity. If you feel a pop in the back of your heel or bottom of you calf, you may have ruptured or torn you achilles tendon.
Diagnosis
During the physical exam, your doctor will gently press on the affected area to determine the location of pain, tenderness or swelling. He or she will also evaluate the flexibility, alignment, range of motion and reflexes of your foot and ankle. Your doctor may order one or more of the following tests to assess your condition, X-rays. While X-rays can't visualize soft tissues such as tendons, they may help rule out other conditions that can cause similar symptoms. Ultrasound. This device uses sound waves to visualize soft tissues like tendons. Ultrasound can also produce real-time images of the Achilles tendon in motion. Magnetic resonance imaging (MRI). Using radio waves and a very strong magnet, MRI machines can produce very detailed images of the Achilles tendon.
Nonsurgical Treatment
In most cases, nonsurgical treatment options will provide pain relief, although it may take a few months for symptoms to completely subside. Even with early treatment, the pain may last longer than 3 months. If you have had pain for several months before seeking treatment, it may take 6 months before treatment methods take effect. The first step in reducing pain is to decrease or even stop the activities that make the pain worse. If you regularly do high-impact exercises (such as running), switching to low-impact activities will put less stress on the Achilles tendon. Cross-training activities such as biking, elliptical exercise, and swimming are low-impact options to help you stay active. Placing ice on the most painful area of the Achilles tendon is helpful and can be done as needed throughout the day. This can be done for up to 20 minutes and should be stopped earlier if the skin becomes numb. A foam cup filled with water and then frozen creates a simple, reusable ice pack. After the water has frozen in the cup, tear off the rim of the cup. Then rub the ice on the Achilles tendon. With repeated use, a groove that fits the Achilles tendon will appear, creating a "custom-fit" ice pack. Drugs such as ibuprofen and naproxen reduce pain and swelling. They do not, however, reduce the thickening of the degenerated tendon. Using the medication for more than 1 month should be reviewed with your primary care doctor. The following exercise can help to strengthen the calf muscles and reduce stress on the Achilles tendon. Lean forward against a wall with one knee straight and the heel on the ground. Place the other leg in front, with the knee bent. To stretch the calf muscles and the heel cord, push your hips toward the wall in a controlled fashion. Hold the position for 10 seconds and relax. Repeat this exercise 20 times for each foot. A strong pull in the calf should be felt during the stretch. Physical therapy is very helpful in treating Achilles tendinitis. It has proven to work better for noninsertional tendinitis than for insertional tendinitis. Eccentric strengthening is defined as contracting (tightening) a muscle while it is getting longer. Eccentric strengthening exercises can cause damage to the Achilles tendon if they are not done correctly. At first, they should be performed under the supervision of a physical therapist. Once mastered with a therapist, the exercises can then be done at home. These exercises may cause some discomfort, however, it should not be unbearable. Stand at the edge of a stair, or a raised platform that is stable, with just the front half of your foot on the stair. This position will allow your heel to move up and down without hitting the stair. Care must be taken to ensure that you are balanced correctly to prevent falling and injury. Be sure to hold onto a railing to help you balance. Lift your heels off the ground then slowly lower your heels to the lowest point possible. Repeat this step 20 times. This exercise should be done in a slow, controlled fashion. Rapid movement can create the risk of damage to the tendon. As the pain improves, you can increase the difficulty level of the exercise by holding a small weight in each hand. This exercise is performed similarly to the bilateral heel drop, except that all your weight is focused on one leg. This should be done only after the bilateral heel drop has been mastered. Cortisone, a type of steroid, is a powerful anti-inflammatory medication. Cortisone injections into the Achilles tendon are rarely recommended because they can cause the tendon to rupture (tear).
Surgical Treatment
Chronic Achilles tendon tears can be more complicated to repair. A tendon that has torn and retracted (pulled back) into the leg will scar in the shortened position over time. Restoring normal tendon length is usually not an issue when surgery is performed within a few weeks of the injury. However, when there has been a delay of months or longer, the treatment can be more complicated. Several procedures can be used to add length to a chronic Achilles tear. A turndown procedure uses tissue folded down from the top of the calf to add length to the Achilles tendon.
Tendon
transfers from other tendons of the ankle can also be performed to help restore function of the Achilles. The results of surgery in a chronic situation are seldom as good as an acute repair. However, in some patients, these procedures can help restore function of a chronically damaged Achilles.
Prevention
There are several things you can do to reduce the risk of Achilles tendinitis, warm up every time before you exercise or play a sport. Switch up your exercises. Slowly increase the length and intensity of your workouts. Keep your muscles active and stay in shape all year-round. When you see symptoms of Achilles tendinitis, stop whatever activity you are doing and rest.